Two of the world's most respected brands, Northern Swan and Clever Leaves, combine to strengthen their global reach.
We had the pleasure of having Kyle Detwiler, CEO of Clever Leaves, on the phone who was more than happy to explain a little bit more about the company merger and shed some light on future plans.
Mr Detwiler said "the new combined company will operate under the name of Clever Leaves and brings together complementary businesses and skills" . The goal of this merger is to position the company as a global Cannabis market leader.
When asked what motivated this move, Mr Detwiler said that the two companies have been working together for some time now  and relied on each other expertise.  " We were both eating off the same plate so it made sense" he went on to explain and added "nobody is cashing out, it was just the natural way forward"
Clever Leaves which is the leading vertically-integrated Colombian licensed producer of pharmaceutical-grade medical cannabis and hemp extracts, will lend its name to the new  combined company, which will operate will own 100% of Clever Leaves as well as Northern Swan's .
This global reach Mr Detwiler said will make join operate from the two companies with assets in Canada, Germany, Portugal, and the United States. The financial terms of the transaction were not disclosed.
"We look forward to working side by side with the team from Clever Leaves to further strengthen our position as a leading global operator and supplier of branded consumer and pharmaceutical cannabinoid products," said Kyle Detwiler,
"Clever Leaves is dedicated to developing and growing the highest quality pharmaceutical-grade hemp and cannabis for our patients. We have always known that Colombia's expertise in the global agricultural and flower industry had the potential to transform the global cannabis supply chain. Today, we are embarking on a new chapter in our history. With a shared vision, the full combination of Clever Leaves and Northern Swan strengthens our ability to supply the global market with the highest quality hemp and medical cannabis," said Andrés Fajardo, Clever Leaves' CEO.
Northern Swan CEO, Kyle Detwiler, will serve as CEO of the combined company, and Mr. Fajardo,Clever Leaves' CEO, , will serve as the company's President.
Mr. Fajardo will also immediately be appointed to the Board of Directors of the company. At the next shareholders' meeting, it is expected that the newly combined company will increase the size of its Board of Directors and nominate a slate of directors for consideration by shareholders consisting of Mr. Detwiler, Mr. Fajardo, Mr. Del Wright, Chief Strategy Officer and Chief of Staff of Northern Swan, Mr. Joe Salameh, Managing Director and Head of Europe of Northern Swan, and Mr. Julián Wilches, Chief Regulatory Officer of Clever Leaves.
The combined company's global footprint will now encompass brands, extraction facilities, cultivation operations, and other investments with subsidiaries in Colombia, Portugal, Canada, the United Kingdom, Germany, and the United States with more than 625 employees worldwide. To date, Northern Swan has raised approximately US$105 million of capital.
After giving effect to the full combination of Northern Swan and Clever Leaves, the combined company will operate under the name Clever Leaves. Clever Leaves will be a multi-national cannabis company operating in compliance with federal and state laws, with an emphasis on ecologically sustainable, large-scale cultivation and processing as the cornerstone of building out distribution and brands.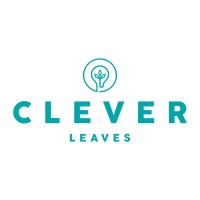 The newly combined firm will be a leading vertically integrated producer of medical cannabis and hemp extracts and is currently cultivating over 1.5 million square feet of greenhouses under Good Agricultural and Collection Practices (GACP) in Colombia, with expected expansion to 2.3 million square feet by the end of 2019 and the goal of reaching 10 million square feet by 2021. Clever Leaves obtained its Colombian Good Manufacturing Practices (GMP) certification from INVIMA, Colombia's food and drug regulatory agency, after inspection of its top-of-the-line extraction facility and is in the process of being certified with European Good Manufacturing Practices (EU GMP).
Clever Leaves' first extraction facility is capable of extracting 24,000 kilograms of dried flower currently, with expansion underway to increase expected extraction capacity to 324,000 kilograms of dried flower per year by mid-2020. Clever Leaves is also expanding its cultivation and extraction capabilities to Portugal, where it currently owns over 9 million square feet of property with over 100,000 square feet of greenhouses and anticipates its first harvests and appropriate licenses in 2020. With offices in Canada, Colombia, Germany, Portugal, the United Kingdom and the United States, Clever Leaves will be one of the world's largest hemp and medical cannabis producers.
Mr Detwiler also said that the company has already launched their CBD brand "ESENIA." in the UK
09/11/19
M.J
Read more about ESENIA below.
Esenia article https://cannabisnewsworld.com/2019/11/12/clever-leaves-exports-first-hemp-oil-product-to-the-uk/